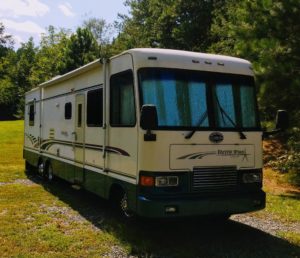 "The Dixie Cup" is a 1997 Newmar Dutch Star 3658. "The Cup" is outfitted in off-white, berry red and teal (a lot of teal!) with a touch of gold trim. (More pics of the pre-renovation Cup)
The Dixie Cup owes her name to Macayla, the second daughter; the Cup's colors reminded her of the Dixie cups that she used as a small child every night before bedtime. And the fact that The Dixie Cup is based in the mountains of north Georgia.
We first noticed The Cup on a visit to a friend's house in September, 2019. At the time that we drove her home on March 28, 2020, twenty three-year-old "Cup" had only 17,215.9 miles on the odometer.
The Dixie Cup Today (well, last year)
1997 Newmar Dutch Star DSCA3658, Serial #62751
Height = 11′ 6″, Length = 36′ 11″
7.5L EFI V-8 engine 240hp 460ci
E4OD Electronic 4-spd transmission with auxiliary cooler
.5.13 ratio regular axle
75 gal fuel tank
51 gal fresh water
130 amp alternator
Sleeps 4
Weights
GVWR = 20,000 spec, 20,040 actual
Net Carrying Capacity = 2,900 spec
GCWR = 25,000 spec, 23,520 actual
GAxleWR Front = 6,000 spec, 5,660 actual
Rear Drive = 11,000
Tag = 4,000
Rear Total = 15,000 spec, 14,380 actual
Tow Vehicle = 3,480 actual
(Actual weights measured 08/02/2022 after solar installation, two passengers)