There's 2,700 watts of photovoltaic wonderfulness on the roof!
We're not much into "boondocking" so we designed the system to maximize the available power while driving or "lot-docking" (extended rest stops for lunch or sightseeing), knowing that we will most likely spend the night in an RV park with full hookups.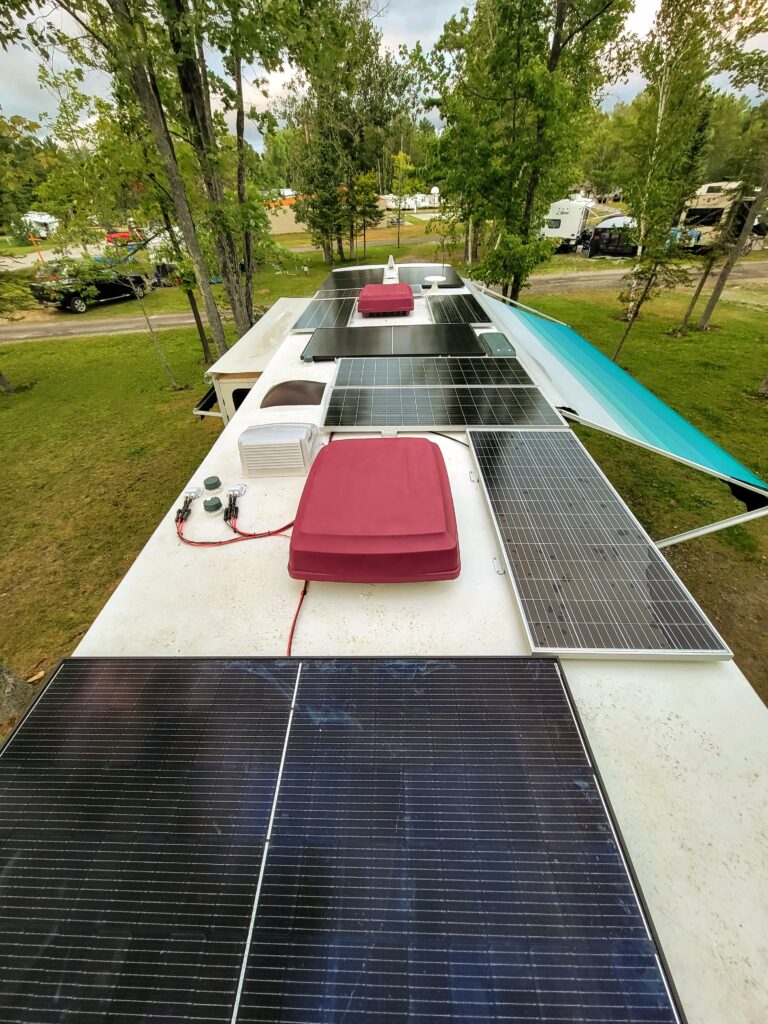 4 Battle Born 100Ah 12V LiFePO4 Batteries (wired in 1 group with cut-off)
Victron Multi-Plus II Inverter 12/3000/120-50 2x120V
Victron Smart Solar MPPT Charge Controller 150/100
Victron Smart Solar MPPT Charge Controller 150/70
Victron Smart Shunt (battery monitoring)
Victron Lynx Distributor
Victron Cerbo GX
Victron Touch 50 Display
Victron Orion DC/DC Charger (30 amp)
4 360-Watt Newpowa Solar Panels
6 210-Watt Newpowa Solar Panels
Breakers, Fuses, Cutoff Switches, etc.
As we expected, a significant amount of heat is generated by the inverter and, to a lesser extent, the solar controllers when the system is in the sun and under a load. We installed a CoolerGuys fan kit to pipe the hot air through the floor and out of the cabin.
If the system does not appear above, you can view the real-time status here.
You're looking at the status of the solar system, in real time; updated every five minutes.
AC Input – the amount of power coming in from any AC source (park pedestal, generator, extension cord from the house, etc.)
AC Loads – The amount of power being drawn by The Cup (appliances, systems)
PV Charger – The power being provided by the solar panels
DC Power – When not on the road, this seems to be the amount of 12V power being used by the solar system itself. When rolling, this box seems to account for the power provided by the RV's alternator via the DC/DC charger
The box at 8 o'clock – The current state and charge of the batteries. The state ("Charging," "Idle," "Discharging") and the amount of power being drawn is shown above the current charge as a percentage
Inverter – The inverter and its current status is represented by the blue box in the top center
Show Details – More info about each device or function
The Cup's solar system was installed by Derek Green of Cross Country RV Tech and Solar of Alpena, Michigan. Derek is an NRVTA-certified RV technician who will come to you for service and installation. We traveled to Derek's home base in Michigan where he was able to complete the installation within six weeks of our first contact.
Derek published a short video about the installation on his Youtube channel.