Our connectivity goals are ambitious, intended to make it possible to take our home-based business on the road for extended periods. But we also want to utilize smart devices where possible, for lighting, streaming entertainment, etc. Our connectivity goals are:
24/7 internal wifi and ethernet network;
reception and amplification of public wifi signals;
cellular connectivity;
redundancy in connectivity options with automatic failover;
mostly if not totally operational while moving;
operational under both AC and DC power
able to support smart devices (lights, TV, Google Home, etc.)
This page explains our ever-evolving system for connectivity. You will find articles about specific devices and projects in the Connectivity category.
Note: The system described below may or may not be suitable for your needs. Before you start spending money on equipment and plans, think about what your specific needs are.
Devices Currently in Our System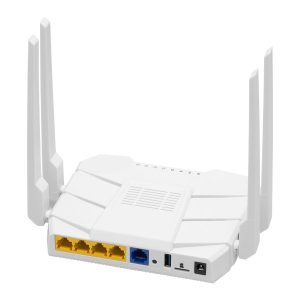 WifiRanger Aspen (indoor mobile router)
Inseego MiFi 8800L hotspot (Verizon)
Inseego MiFi 8000 hotspot (Sprint)
Sabrent 4-port powered 3.0 USB hub
DROK DC Buck volt converter (12v to 5v)
6-way blade fuse box
USB cables
Bob's Google Pixel 3 smartphone
A Pop Socket holder
NetGear MIMO antenna
Verizon account (currently 16GB family share)
Calyx Institute Sprint Unlimited account
Google Fi "Flexible" account
The Aspen mobile router is powered by 12VDC and serves as the central hub for the setup. The USB hub is powered by 12VDC, stepped down to 5VDC by the converter, and connects to the Aspen. Tethered to the Aspen via USB are the 8800L hotspot (Verizon) and the Pixel smartphone (on Google Fi; it hangs from the PopSocket holder to the right in the pic below). The powered hub keeps the tethered devices charged. Because all devices are powered by the RV's batteries, they are always on without the need for the generator or shore power.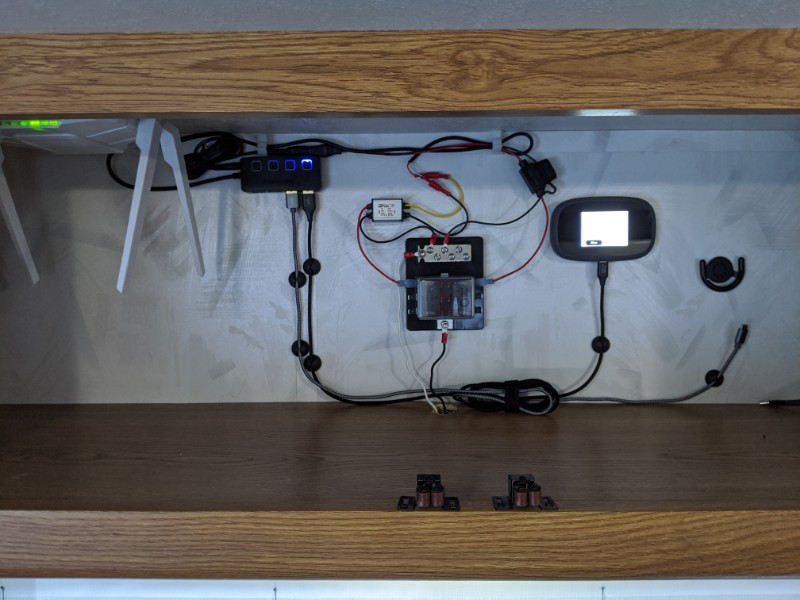 The 8800 hotspot is currently on our 16GB shared family plan at $10 for the device. We use very little data and Verizon has a one-month carry-over of unused data (and they give free gigs often), so we very often carry 25-30GB of available data into any given month.
The 8000 hotspot is powered by Calyx Institute's unlimited Sprint account. The membership is pretty pricey ($175 per quarter or $500 per year) so this is probably a bit of overkill unless you're full-timing (which we are not… yet!).
Google Fi – Three networks in one
Google Fi, is Google's entry into the cellular market. Fi is an MVNO ("mobile virtual network operator") which basically means that they don't operate their own cellular network but piggyback off of existing networks. For Fi, those are currently Sprint, T-Mobile and U.S. Cellular. Compatible phones will switch seamlessly between the three networks, to whichever is strongest at the moment. You also get seamless access to a large number of publicly-available wifi networks. Google Fi will bypass any welcome page, logging you in automatically. And you don't have to worry about security; compatible phones include an always-on VPN. (Non-compatible phones will work, but only on the T-Mobile network with no network switching, wifi hotspots or VPN, although the VPN can be enabled on some phones via an app.)
With the "Flexible" plan, Google Fi charges you $20 a month for basic service, and the cost per-phone drops as you add more devices to the account. Then, you pay $10 for every gigabyte of mobile data that you use each month up to 6GB, after which data is essentially free until 15GB. At 15GB of monthly usage, you'll have a choice — slower than usual mobile data speeds through the end of the month at no extra cost or to start paying $10 per gigabyte of usage above 15GB for normal speeds.
And you pay for actual usage; meaning that if you use 3.402GB in a month your cost will be $20 plus $34.02 (plus tax). I'm a light data user since I work at home (and never leave the house). My bill last month was $56.58 for 3.21GB. Depending on your use, you may not save a lot of money over comparable plans but you won't pay for data that you don't use.
Google also offers an "unlimited" plan that works out to $70/month for at least 22GB of high-speed mobile data for a single user ($120/month for two users and 44GB total data). As you near 5GB of usage for a single user on the "Flexible" plan, the unlimited account becomes the better option.
For RVers, the ability to add three cellular networks to your setup for the cost of one plan is pretty cool.
I currently tether my Pixel 3XL as needed but, in a few months, the daughter's 3XL will be paid off (and she wants to switch to iPhone… I thought I raised her better) so I will add that phone to the Fi account and dedicate it to the RV's system. (This also gives the RV its own phone number!)
Besides receiving and redistributing wifi and/or cellular service to the RV, the router's wifi network allows us to connect a Google Home Mini, Phillips Hue lights, a Wyze cam, Chromecasts and an Amazon Fire Stick on the TVs.
Performance
Obviously, your experience will vary and these numbers don't really mean much, but here are the download speeds that we have clocked with this system:
65-75 Mbps with Google Fi (on T-Mobile) sitting in our storage yard
5-8 Mbps with the Verizon hotspot in the same location
Future expansion
Small laptop or Chromebook for dedicated access to router control panel
AT&T hotspot and plan
Rooftop antenna; possible WFR Denali or Everest
Downsides
I haven't done enough "real world" testing to identify weaknesses yet. Anticipated weaknesses are source redundancy and signal collection/amplification, both to be addressed by the "future expansion" if necessary.
Cost
Total hardware cost to date = $353.32
Unlimited Sprint (Calyx) = $175 per quarter
Monthly data cost = Up to $90 for 31GB data before possible management
Notes
The components are mounted to the cabinet wall with Nano tape; no holes have been drilled (so far) except to run power to the system from the light fixture under the cabinet.
05/20/2020 – Currently, only the USB hub is powered by 5VDC, so it is the only device connected to the converter. Before I wire in a Wyze cam, GHome Mini or other device, I will add a second fuse box to the 5VDC circuit.