This page used to show a running total of how much we've spent on The Dixie Cup, and on what. We stopped keeping a running tally after $10K… in the first year…. it was just too painful.
Instead, we'll just list the major expenses and you can do the math.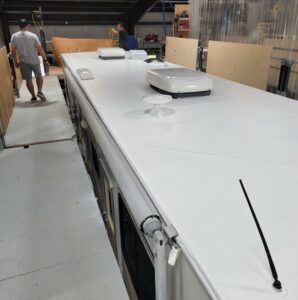 A really nice FlexArmor roof installed and maintained by RV Roof Atlanta. One of the best "investments" that we have made in The Cup.
$ – About $6,500
A super-fancy solar power system with 10 panels on the roof and a ton of complicated-looking boxes and wires under the bed. Installed by Cross Country RV Tech and Solar. So here's the logic… we put a bunch of solar panels on top to protect our investment in the roof. Right?
$ – Just under $15,000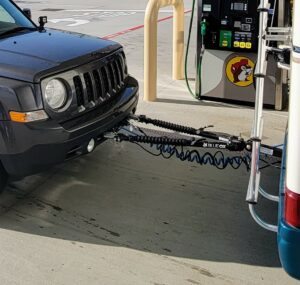 After trying a tow dolly for a few trips, we quickly learned that crawling around on the ground to hook up safety chains and straps wasn't for us. We found Tom at RV Camp Champ who helped us select the right flat tow solution for our 2015 Jeep Patriot. Blue Ox Alpha 6,500-lb. tow bar, baseplate, Patriot 3 Brake, all accessories.
$ – Just under $3,000
Oh yeah…. the Jeep. A 2015 Patriot, manual transmission with 105,000 miles. Flat towable so I don't have to crawl around on the ground.
$ – About $8,000
FOR SALE:
Tow dolly by CarTowDolly. Used very little; lots of accessories including a spare tire. Paid approximately $1,500 (new dolly with no accessories currently selling for $2,000). Best for someone not as crusty as me!
BF Goodrich Commercial T/A tires (times 8). Installed by University Tire in Loganville, GA.
$ – $1,788.64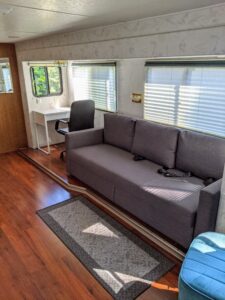 Laguna Acacia laminate flooring (Lowe's), supplies, nail gun, edging and trim molding, hardware, carpet and carpet stuff, etc.
$  – $1,500 and lots of blood, sweat, and tears
Two SoftStartRV SSRV3T AC start units. Found on Amazon.
$ – $645.84
IKEA sleeper sofa.
$ – $543.41