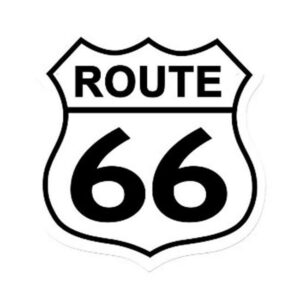 We have begun a month-long trip on historic Route 66! Our slightly abbreviated path will take us from the Gateway Arch in St. Louis to off-route Las Vegas, Nevada.
At one point in the trip, there will be seven family members on The Cup. We will retrace our steps to Albuquerque, NM where we will spend a day at the Balloon Fiesta before starting home. The entire trip is approximately 4,600 miles.
We have a high energy, non-stop trip planned as you can see below. Please check back later for photos and more.
Day 1 & 2: Dawsonville, GA to Nashville, TN ("Pre-66")
In town for another event
Opryland
Day 3: Nashville to St. Louis, MO
Stuckey's
Sightseeing in St. Louis, dinner at the casino
Day 4: St. Louis to Sullivan, MO
Gateway Arch (going to the top!)
Meramec Caverns
Day 5: Sullivan to Miami, OK
Murals of Cuba (MO)
Fanning Outpost and Route 66 Rocker
Totem Pole Trading Post
Uranus & a Muffler Man, Fudge Factory & General Store
Route 66 Museum, Lebanon
Route 66 Car Museum, Springfield
Two Gas Pumps in a Field
Gary's Gay Parita, Paris Springs
Hogs and Hot Rods State Line Saloon
Cars on the Route
Quapaw Casino
Day 6: Miami to Bridgeport, OK
Clanton's Cafe, Vinita OK
Blue Whale of Catoosa
Seaba Station Motorcycle Museum
POPS Soda Ranch
Arcadia Round Barn
Day 7: Bridgeport to Amarillo, TX
Lucille's Gas Station, Hydra OK
Stafford Air and Space Museum, Weatherford OK
Oklahoma Route 66 Museum
National Route 66 Museum, Elk City OK
Sandhills Curiosity Shop, Erick OK
Tower Station & U-Drop Inn Cafe, Shamrock TX
Pioneer West Museum, Shamrock
Leaning Tower of Texas
VW Slug Bug Ranch
Day 8 & 9: In Amarillo
Palo Duro Canyon State Park
The Big Texan Hotel
The Big Texan Steak Ranch
Cadillac Ranch
Bill's Backyard Classics
RV Museum
Day 10: Amarillo to Albuquerque, NM
MidPoint Cafe, Adrian TX
Del's Restaurant, Tucumcari NM
Blue Swallow Motel, Tucumcari
Route 66 Auto Museum, Santa Rosa NM
Rio Puerco Bridge
Day 11: Santa Fe, NM
Oldest House in the U.S.
Oldest Church in the U.S.
Loretto Chapel
The Cathedral Basilica
Palace of the Governors
The Santa Fe Plaza
Antiques shops in Madrid NM
Expo New Mexico Flea Market
American International Rattlesnake Museum
Telephone Pioneer Museum
Balloon Museum
Day 12: Albuquerque to Holbrook, AZ
Route 66 Arch, Grants NM
El Rancho Hotel
Painted Desert Visitor Center, Petrified Forest
Bucket of Blood Street and Saloon
Day 13: Holbrook to Williams, AZ
Geronimo Trading Post
Jack Rabbit Trading Post
"Take It Easy" Corner, Winslow AZ
Old Trails Museum
Meteor Crater
Apache Death Cave in Two Guns AZ
Downtown Flagstaff
Day 14: Grand Canyon
Fred Harvey Restaurant
Grand Canyon Railway
Grand Canyon South Rim
Day 15: Sedona, AZ
State Route 89A
Oak Creek Canyon Vista
Chapel of the Holy Cross
Cathedral Rock
Montezuma Castle National Monument
Red Rock State Park
The Museum Club, Flagstaff
Day 16: Williams to Kingman, AZ
Ash Fork Route 66 Museum
Delgadillo's Route 66 Gift Shop, Seligman AZ
The Rusty Bolt
Grand Canyon Caverns
Caverns Grotto
Hackberry General Store
Mr. D's Route 66 Diner, Kingman AZ
Day 17: Oatman & Lake Havasu City
Cool Springs Station
Burros in Oatman
London Bridge, Lake Havasu City AZ
Day 18: Kingman to Las Vegas, NV
Breakfast in Chloride, Yesterday's Restaurant
Hoover Dam
Day 19 & 20: In Las Vegas
Kids flying in to join us
Donny Osmond at Harrah's Showroom
Day 21: Las Vegas to the Grand Canyon
The whole crew back to the South Rim
Day 22: Grand Canyon to Grants, NM
"Take It Easy" Corner (again)
Route 66 Arch (again)
Day 23: Balloon Fiesta in Albuquerque
If time, a half-day trip to Santa Fe
Day 24 – ?: Return to Dawsonville 
Return route and itinerary yet to be determined
The trip will cover approximately 4,600 miles. At 6-1/2 mpg and $3.39 per gallon, fuel costs will be approximately $2,400. If there is enough interest, we will publish a detailed accounting of expenses. Let us know.