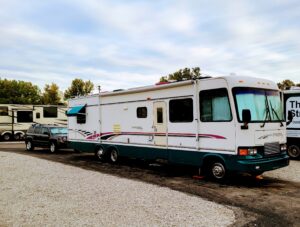 After an uneventful drive from Nashville to St Louis, we set up in the DraftKings Casino RV Park. It's nothing special; basically a large parking lot with hookups. We ate dinner in the casino, then lost $7 on the slots. Took us about three minutes to decide that gambling wasn't our thing.
Check this link each morning for my raw pics from the trip: https://photos.app.goo.gl/gycihacgaTp8SDZi8
Instagram pics from the trip appear here. This feed will include Diane and Sherry's photos as well.